PARQUET IN
PARQUET IN is the world famous company that manufactures elite floor coating, founded in 1970 in Italy. PARQUET IN gained general acceptance due to its many years` experience and skill of carpenters, who up to this day treat the wood manually, using traditional techniques.
A distinctive feature of the factory is to create an exclusive floor covering that combines marble and solid wood. This unusual duo won the hearts of all connoisseur of exquisite beauty. This parquet flooring with marble inlays is incorporated in ELEGANT collection, the title of which speaks for itself. Another unusual collection NEW MOSAICS includes parquet flooring, inlaid with mosaics. Solid wood classic art parquet is represented in OLD CHIC collection, which embodies age-old traditions and ancient technologies.
The products of the factory are predominantly represented by all possible options for the modular parquet flooring made of valuable wood. The modules are ready for installation and require no post-processing, that simplifies the installation process.
If you choose the products of PARQUET IN factory, you will be satisfied not only with a terrific design staggering the imagination, but also with the quality of parquet flooring that will serve you for decades.
Collections

Elegant

New mosaics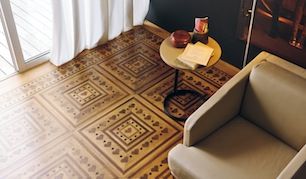 Old chic